Message from the Director
Since our last e-Newsletter, much has changed for us all. However, Cranfield continues to deliver postgraduate programmes to students and executive courses to business executives from around the world, adapting with the use of technology as many of you will be also. We have extended our blended-learning style of delivery and are preparing for the start of the new academic year in autumn to welcome our new students.

We are currently preparing for another cohort of our Executive MSc in Logistics and Supply Chain Management to begin in September. There is still time to apply for the programme and fund the fees for your UK employees on the programme through the Apprenticeship Scheme, Senior Leaders Level 7 Standard.

A few days ago, we launched the first of our Supply Chain Webinar 1-hour series. This webinar examined how contemporary supply chains are changing post Covid-19 and post Brexit focusing on the role of supply chain technologies.

The Centre of Logistics, Procurement and Supply Chain Management has also emerged as a leading group for influencing academics and practitioners over the past decades as it is evidenced in the International Journal of Logistics Management, a top logistics and supply chain management journal.

Finally, I have pleasure in detailing below, logistics and supply chain management books written or edited by our faculty members in collaboration with other academic colleagues from all over the world. These books are very contemporary and informative. I hope that they will support your thinking for how to operate, adapt and plan business, logistics and supply chain management to operations during these dynamic, complex and unprecedented times we all face.
Professor Michael Bourlakis
Director of Research, Head of Logistics, Procurement & Supply Chain Management Group
---
The first of our Supply Chain Management one-hour Webinars: An opportunity to engage with our stakeholders
This webinar took place on 27 July and we welcomed more than 130 participants including senior managers, current and prospective students, academics, and practitioners.
Professors David Oglethorpe (Dean of School of Management) and Michael Bourlakis welcomed the participants. Professor Martin Christopher presented a session relating to supply chain risk, resilience and complexity followed by Professor Emel Aktas who examined the role of technologies in supply chain. Dermot Lynch from ABB Ltd presented the latest technologies and developments implemented by his company in relation to robotics and automation.
The webinar was very successful and it showcased our current thought leadership and leading research in logistics and supply chain management. To see the recorded session, please click on the button below:


Our next webinar is scheduled for 11th September and will focus on "Current and Future Challenges in the Food Supply Chain". Please get in touch with my colleague, Alexandra Iordache (email: Alexandra.Iordache@cranfield.ac.uk) if you are interested to participate.
---
Executive MSc in Logistics and Supply Chain Management (PT) - recruiting now for the new intake (14th September 2020)
Applications for the Executive MSc are now being received and processed for the 14th September 2020 intake. This cohort is open to both overseas students and UK students. UK organisations' employees can have the study fully funded through the Apprenticeship Scheme (subject to eligibility). Due to COVID-19, the course will be delivered online (live lectures and interactive sessions) until it is safe to attend the course in campus. Dr. Soroosh Saghiri, would be delighted to hear from you with any questions about the MSc, or please visit the website.

---
Cranfield University contributes the most to International Journal of Logistics Management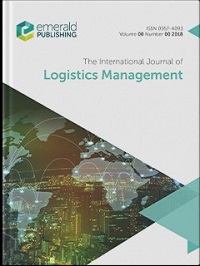 The International Journal of Logistics Management (IJLM), a leading academic journal in logistics and supply chain management, recently published an article highlighting its contribution to the development of theory and practice in logistics and supply chain management.

Current and past academic researchers from the Centre for Logistics, Procurement and Supply Chain Management were placed very highly for key parameters, such as- the total number of publications.

Thanks to the pioneering work in logistics & supply chain management by Emeritus Professor Martin Christopher and other affiliated researchers at the Centre, Cranfield University is identified as a leading institution in logistics and supply chain management research by this journal.

---
Recent logistics and supply chain management books
The books listed below cover various subjects within logistics and supply chain management. I am sure that they will be a invaluable resource for you all.
Supply Chain 4.0 Improving Supply Chains and Analytics and Industry 4.0 Technologies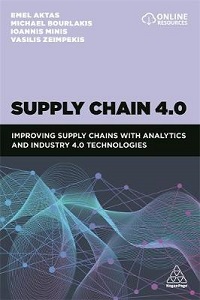 Authors: Emel Aktas, Michael Bourlakis, Ioannis Minis, Vasilis Zeimpekis
In line with the growing research interest of the Centre for Logistics, Procurement, and Supply Chain Management in digitalisation of supply chains, this edited volume brings together an exciting set of contributions analysing emerging technologies and their applications in supply chains. We hope the readers will enjoy reading market driven digital supply chain strategies, collaborative robotics in warehouses, and predictive analytics applications on using unstructured real-time data to estimate physical distribution delays. This book is also providing a plethora of academic and managerial insights.
Food Supply Chains in Modern Cities – Modern Tools for Circularity and Sustainability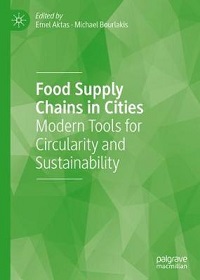 Edited by:
Emel Aktas, Michael Bourlakis
Collating decades of expertise in food supply chain management, Professors Aktas and Bourlakis are pleased to present a range of applied research outcomes on managing food supply chains in urban areas. Taking into account the increasing urbanisation and diminishing natural resources, food supply chain professionals need to find more efficient and sustainable ways of operating. This edited volume presents a range of food supply chain-related applications from delivery routing to vertical farms, always keeping in mind the practical question of 'how could the outcomes of this research' be put in practice.
Sustainable Freight Transport
Edited by: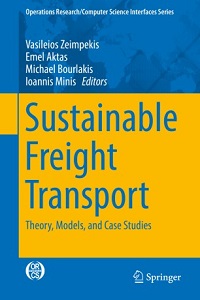 Vasileios Zeimpekis, Emel Aktas, Michael Bourlakis, Ioannis Minis
Freight transport has always been a strong research domain in the Centre for Logistics, Procurement, and Supply Chain Management. With this recent book on sustainable freight transport Professors Aktas and Bourlakis together with Professor Minis and Dr Zeimpekis present a diverse portfolio of freight transport applications supported with the state-of-the-art research findings. Topics include but are not limited to green vehicle routing, environmental benefits of collaboration, and an analysis of urban consolidation centres.
Logistics and Supply Chain Management, 5th Edition
Emeritus Professor Martin Christopher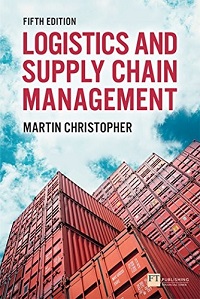 Effective development and management of supply chain networks helps businesses cut costs and enhance customer value. This updated 5th edition is a clear guide to all the key topics in an integrated approach to supply chains.

As well as new and updated examples and case studies, there are two new chapters:

Routes to Market: Many companies now have to manage multiple distribution channels - this chapter covers strategic issues on how companies "go to market" along with the cost implications of using alternative channels.

Service Logistics: As companies begin to sell performance rather than physical product, this chapter explores the implications for logistics management as the need to provide higher levels of service and customer support becomes ever more critical.
Operations Management for Business Excellence: Building Sustainable Supply Chains, 4th Edition
Authors: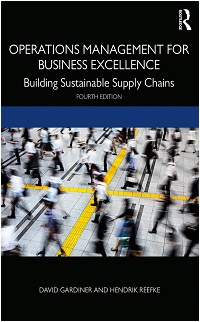 David Gardiner and Hendrik Reefke
All businesses strive for excellence in today's technology-based environment in which customers want solutions at the touch of a button. This highly regarded textbook provides in-depth coverage of the principles of operations and supply chain management, and explains how to design, implement, and maintain processes for sustainable competitive advantage.
Operations Management for Business Excellence reflects advances in supply chain management such as novel logistics technology, information systems, customer proximity, sustainability, and the use of multiple sales channels. As a platform for discussion, the exploration of trends includes self-driving vehicles, automation and robotics, and omnichannel retailing.
This text offers a combination of theory and practice with a strategic, results-driven approach and builds an understanding of how to achieve and maintain 'excellence' in business. Also during uncertain times, this book proves valuable in combining human expertise with state-of-the-art solutions.
Logistics Management and Strategy: Competing through the Supply Chain, 6th Edition
Authors:
Alan Harrison, Heather Skipworth, Remko van Hoek and James Aitken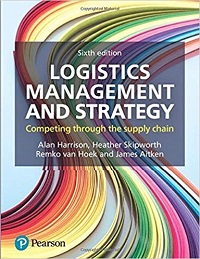 A concise, applied and strategic introduction to logistics and supply chain management, which is ideal for managers around the world. Logistics stands at the heart of the debate around sustainability, technology, competitive advantage, globalisation and risk. This book offers a contemporary, straight forward and practical approach to the subject, which is of critical importance following supply chain disruptions like Brexit and the US-China trade war and most recently the major disruptions from the Covid-19 pandemic.

A wealth of new and updated material and case studies, from countries across the globe, covers subjects which will be of growing importance in the post-Covid-19 world. For example recent technological advances in the field, including big data, Internet of Things, Blockchain, collaborative automation and 3D printing. Also, the changing role of logistics service providers with a new section on tax-efficient supply chains. Further, a more detailed section on Sales and Operations Planning - which is a vital approach when managing the supply chain response to a disruption - including a new case study with a simple simulation tool.

This market-leading text-book builds on its strong European foundation and extends its international appeal through examples and cases studies form South Africa, the United States, Japan, China and Australia.
Supply Chains in Action
Professor Richard Wilding OBE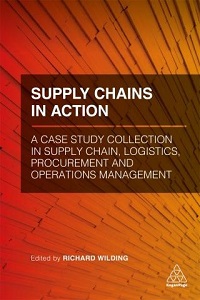 Supply Chains in Action is a collection of varied and relevant case studies which will help you understand issues and opportunities relating to supply chains using examples from across the field of logistics, supply chain management, procurement, and operations management.

Supply Chains in Action is structured around a simple strategic framework with an emphasis on process, network and infrastructure, information system and organisation design. A wide range of areas are covered including technology-related issues, setting, and reviewing budgets, managing economic performance and overseeing costs.

Expertise in these subjects is provided by leaders from industry and academia who offer their first-had experience on how to build success into your business and navigate common challenges. Supply Chains in Action also offers thought-provoking questions throughout to promote self-reflection and embed learning. This book is vital in developing a future-orientated plan to fully utilize the potential of supply chains.
---
If you wish to be removed from our contact list and no longer receive updates from our Centre for Logistics, Procurement and Supply Chain, please reply to this email and let us know.

If you wish to be removed from any Cranfield communication, please click the unsubscribe button at the bottom of this email.
---
Contact Us
T: +44 (0) 1234 758561
E: m.bourlakis@cranfield.ac.uk
W: www.cranfield.ac.uk/som/clpscm