Message from the Director
As we are progressing with the academic year, it is a great pleasure to mention that we welcomed 184 new postgraduate students to our two full-time MSc programmes (MSc in Logistics & Supply Chain Management, MSc in Procurement & Supply Chain Management).

We provide more detail on the cohort and discuss the student project scheme, which companies have and continue to support year on year. It is now that time of the year again, when we invite companies to put forward projects for student theses and further details are given in the following pages.

Our Executive (part-time) MSc in Logistics and Supply Chain Management has been very successful too and a new cohort started in October last year. We are now recruiting for an additional start date in February 2020 and there is still time to apply. This programme meets the requirements of the Level 7 Senior Leaders Master's Degree Apprenticeship Standard and eligible organisations can use £18,000 of their Apprenticeship Levy to cover the programme tuition fees.

I hope that this e-Newsletter will continue to be an excellent platform to engage further with all of you.
Professor Michael Bourlakis
Director of Research, Head of Logistics, Procurement & Supply Chain Management Group
---
MSc Logistics/Procurement and Supply Chain Management (FT)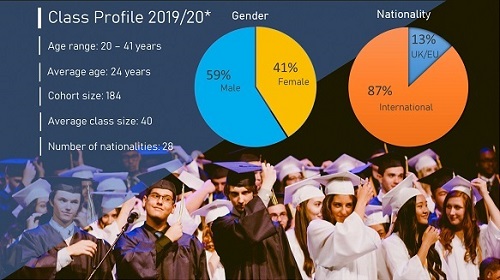 The new academic year has started and the full time programmes have recruited well. The trend is similar to the last few years with a higher proportion of international students on the programme as compared to UK/EU students. The level of diversity across the programmes is impressive with individuals from 28 different nationalities; the largest sub group being students from China.
This presents opportunities for your organisation to recruit from our full time students for global positions as we have a global student population who are keen to work and gain experience in international businesses.
Several of the students have years of experience and have taken a year out to study for the MSc as a career enhancer. Many of them are multi-lingual and the opportunity to work in a multi-national organisation with global operations would be a fantastic next step for many of the students. If you are seeking to recruit and would like to find out more, please contact our Career Development Service.

Last academic year we had 51 students that undertook MSc thesis projects with a company sponsor. This is a long-standing tradition here at Cranfield and it is a win-win-win opportunity. The student gets to apply some of their learnings in a real-life situation, the sponsor company gets a postgraduate student to focus on a specific issue/challenge that they have and finally, Cranfield wins as it allows us to continue to engage in different ways with industry.
If you are interested in sponsoring a thesis project, please let us know. The projects start at the end of April 2020, for planning purposes we begin the process of allocation of students to projects at the beginning of the year. So if you have any ideas for a project that would benefit from one of our MSc students dedicating 4 months (May – August) to work on then please follow the read more button below, were you will find more information and the application process for a project to be submitted.
In the Read more button below you can hear from Rob Norton, Supply Chain Director at Network Rail who talks about the benefits of sponsoring a student thesis project. You can also read relevant input from Paul Watson (Group Supply Chain Strategy Manager of Tullow Oil) and Mark Phillips (Logistics & Customer Collaboration Manager, PPG Industries) and their reflections on sponsoring a student.

---
Executive MSc in Logistics and Supply Chain Management (PT) – recruiting now for the new intake (February 2020)
We welcomed our new intake of Executive MSc students few months ago (October 2019). The programme has around 40 supply chain practitioners, representing 9 different nationalities. We are recruiting now for an additional intake this February 2020. This cohort is open to both overseas students and UK students, who can be funded through the Apprenticeship Scheme. Dr. Soroosh Saghiri, would be delighted to hear from you with any questions about the MSc, or please visit the website.

---
Emerging risks in supply chains: Research developments
According to KPMG's global CEO outlook (2019), climate change and cybersecurity are top risks senior managers are most concerned about in the current volatile business environment.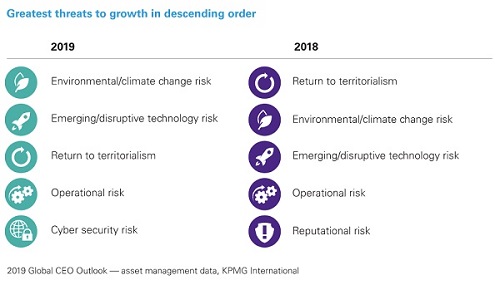 Undoubtedly, these risks also appear as top emerging risks according to other world's leading research and consultancy firms across the globe. Dr Abhi Ghadge has been an active researcher in supply chain risk management and recently had success in publishing his latest work on these emerging risks.
Research exploring cyber risk management for supply chains has been recently published in a leading supply chain management journal (Supply Chain Management: An International Journal).

Similarly, a study attempting to manage climate change risks in global supply chains has been published in another leading outlet (International Journal of Production Research). Exploring interdisciplinary academic research developments, he along with his co-authors collaboratively developed innovative frameworks for managing these risks in global supply chains. Following quantitative modelling techniques, Abhi continues to explore the impact of climate change and cyber risks on supply chain performance.

---
Subscribe to our future eNewsletters
If you know someone that might be interested in subscribing to our e-Newsletter they can access the subscription link by clicking the button below.



If you wish to be removed from our contact list and no longer receive updates from our Centre for Logistics and Supply Chain please reply to this email letting us know.
---
Contact Us
T: +44 (0) 1234 758561
E: m.bourlakis@cranfield.ac.uk
W: www.cranfield.ac.uk/som/clscm